Brushstrokes can create art, but what about the artistry behind perfect makeup? The real artists know that the magic of a flawless makeup application is held within the bristles of their brushes. Imagine sweeping a touch of color onto your cheeks with a rose gold blush brush or blending a beautiful eyeshadow with a mythical unicorn brush. A perfect blend of function and fantasy, these whimsical tools are transforming ordinary makeup routines into delightful experiences.

Today, we are venturing into a colorful world, where beauty tools meet the land of unicorns, mermaids, and iconic characters like Hello Kitty. These unique makeup brushes aren't just for the young at heart, but for anyone who cherishes a touch of whimsy. From the glamorous Kylie brushes to the vibrant pink and purple brushes, this journey offers a peek into an enchanting realm of makeup magic. Ready to give your vanity a fairy tale twist? Read on. You won't just fall in love with these brushes; you'll be spellbound!
Importance of Makeup Brushes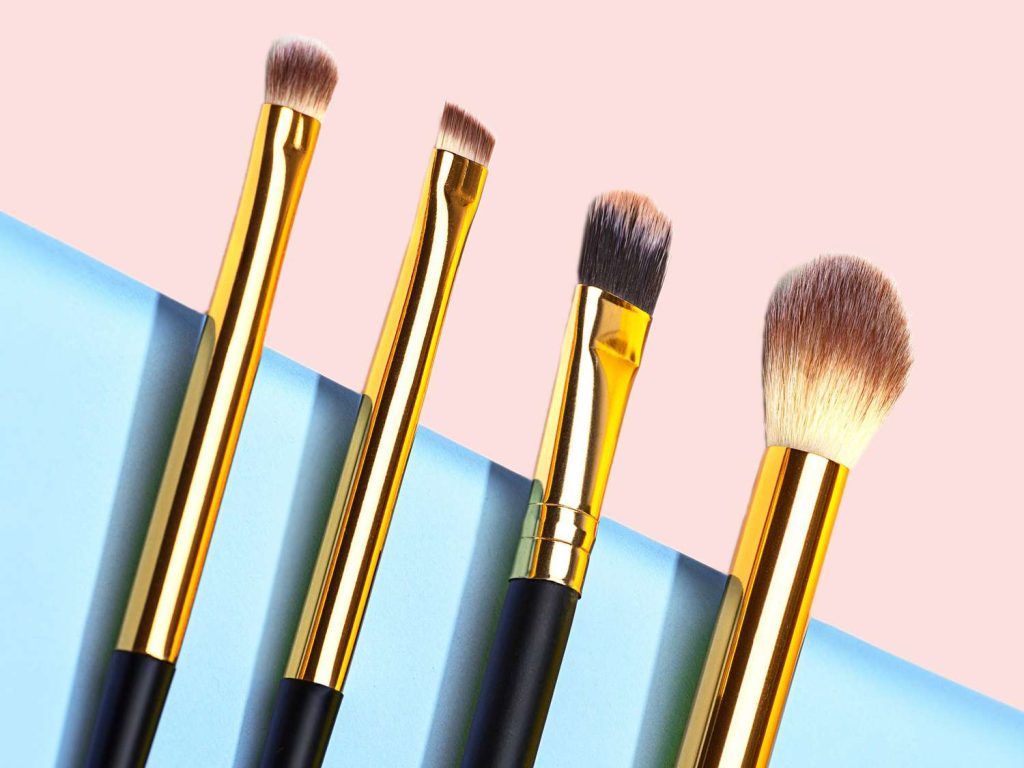 In the kaleidoscope of makeup artistry, the power of a great brush is often underestimated. Like a painter's brush to canvas, the right makeup brushes act as an extension of your hand, helping to translate your creative vision onto your very own face. Their importance is multifaceted, and understanding their value can transform your makeup game.
Craftsmanship & Precision
Makeup brushes are crafted meticulously, each designed with a specific purpose in mind. From delicately tapered eyeshadow brushes that create the perfect smoky eye to broad, fluffy powder brushes that give a soft-focus effect, these tools bring precision to every stroke. For instance, the round edges of Kylie makeup brushes are perfect for blending products seamlessly, and the unique shape of rose gold makeup brushes can help achieve an airbrushed finish.
Material & Quality
The bristles' material is a defining factor in the application and finish of your makeup. Synthetic brushes are ideal for cream and liquid products, while natural bristles pick up and distribute powder products evenly. The soft bristles of unicorn makeup brushes or the high-quality synthetic fibers of mermaid makeup brushes can make a significant difference in your makeup application.
Variety & Versatility
A palette of makeup brushes allows you to play with an array of looks. The broad scope of pink, purple, and hello kitty makeup brushes means there's a brush for every makeup step – foundation, concealing, contouring, blushing, highlighting, eyeshadow application, and more. More than just tools, the right brushes empower you to become your own makeup artist.
Protection & Hygiene
Brushes create a barrier between your makeup and your hands, keeping the products free from oil and bacteria. They are especially important when it comes to kids' makeup brushes, where hygiene is a priority.
A Touch of Whimsy
A unique, well-designed brush not only does its job well but also adds a touch of joy to the process. For instance, holding a unicorn or mermaid makeup brush can transform an everyday routine into an enchanting experience.
In essence, the right set of makeup brushes elevates your artistry, bringing out the best in your makeup products, and helping you to create a flawless look with ease, precision, and a dash of magic. So, as you hold your brush, remember: you're not just applying makeup; you're creating a masterpiece.
Unique Makeup Brushes for the Perfect Touch of Whimsy
Adding a touch of whimsy to your makeup routine can make a world of difference. It can transform an everyday chore into an enchanting experience, almost magical. Here, we'll explore some unique makeup brushes that will not only elevate your makeup application but also bring a delightful charm to your vanity.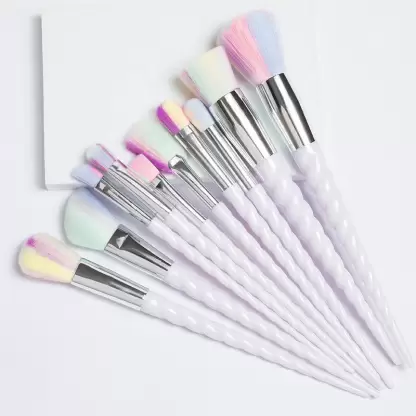 Who doesn't love a sprinkle of magic? Unicorn makeup brushes encapsulate the enchanting allure of these mythical creatures. They often feature iridescent handles shaped like unicorn horns, with bristles in a riot of pastel shades, mimicking the magical mane of a unicorn. Not only are they a hit among kids, but adults also fall for their charming design and decent quality. They add a playful touch to your makeup routine while ensuring your makeup blends beautifully.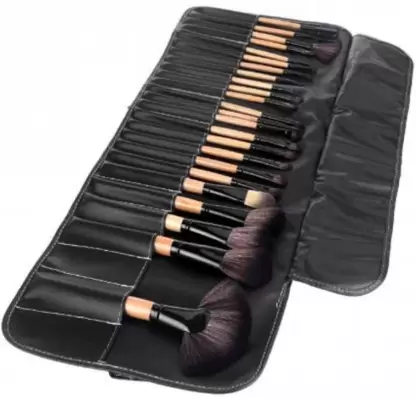 Kylie Cosmetics, helmed by Kylie Jenner, is known for creating a sensation in the beauty industry. Kylie makeup brushes are no exception. They are synonymous with sleek design, top-notch quality, and professional application. Often packaged in a luxurious brush pouch, these brushes are a blend of form and functionality, suitable for those who appreciate a sophisticated touch in their beauty tools.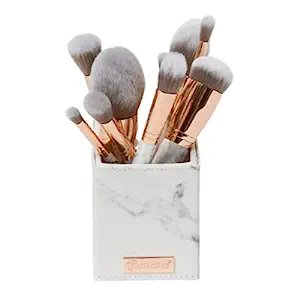 The elegance of rose gold needs no introduction. Rose gold makeup brushes exude an air of luxury and sophistication that is hard to resist. Their chic, metallic finish can instantly elevate your vanity or makeup setup. As for functionality, these brushes often combine soft, dense bristles that ensure a smooth and flawless application, every single time.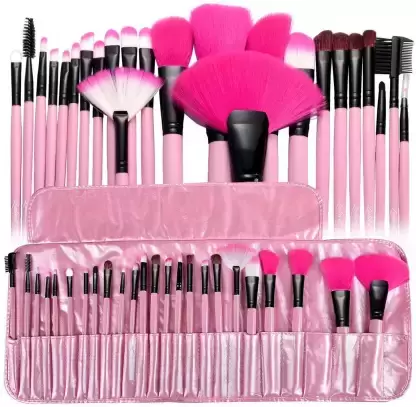 Let's explore the world of color with vibrant pink and purple makeup brushes. They often come in various shades, from soft pastels to intense hues, catering to different preferences. These brushes bring a burst of color and fun to your makeup routine, without compromising on their core function of providing a seamless makeup application.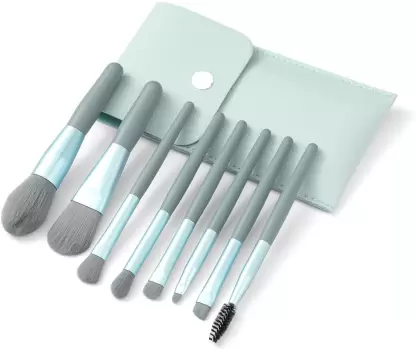 Children imitate adults in many ways, and makeup is no exception. It's essential to have makeup brushes designed specifically for kids, taking into account their safety and ease of use. For instance, Hello Kitty makeup brushes are an excellent example of kids' makeup brushes that are both fun and functional. They feature adorable designs and soft bristles, suitable for a child's delicate skin.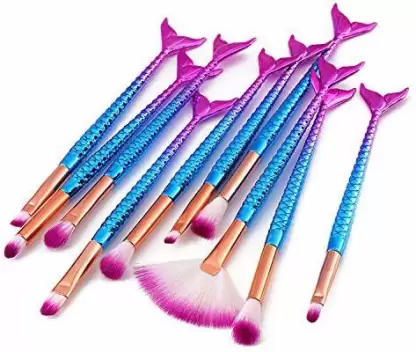 A splash of sea magic, anyone? Mermaid makeup brushes are as magical as they sound. Often featuring handles designed like a mermaid's tail and vibrant, multi-colored bristles, they bring the charm of the ocean right to your vanity. These brushes are perfect for anyone who is drawn to fantasy and loves to add a whimsical touch to their routine.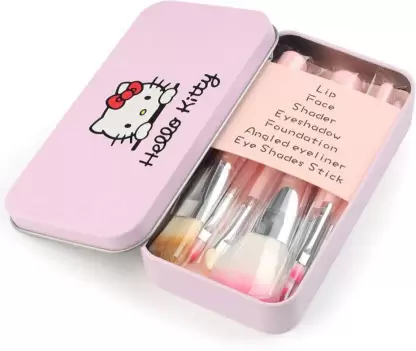 For the lovers of nostalgia and iconic characters, Hello Kitty makeup brushes are a perfect blend of childhood memories and adult functionality. With the signature bow and adorable face on the handles, these brushes are both whimsical and practical. They are designed to add a playful charm to your makeup routine while ensuring a flawless application.
| Brush Type | Description | Best For |
| --- | --- | --- |
| Unicorn | Mythical design, pastel bristles | Kids and fantasy lovers |
| Kylie | Sleek, professional design | Beauty enthusiasts and Kylie fans |
| Rose Gold | Luxurious metallic finish | Those who appreciate elegance |
| Pink & Purple | Vibrant, colorful brushes | Makeup lovers who enjoy a pop of color |
| Kids (Hello Kitty) | Kid-friendly, fun designs | Kids and the young at heart |
| Mermaid | Ocean-themed, vibrant brushes | Fantasy and mermaid lovers |
| Hello Kitty | Nostalgic, playful design | Hello Kitty fans and those who love whimsical tools |
In conclusion, these unique makeup brushes are more than just tools; they are accessories that add a delightful charm and whimsy to your makeup routine. Pick the one that resonates with your personality and let your makeup brush tell a story as unique as you.
How to Choose the Right Makeup Brushes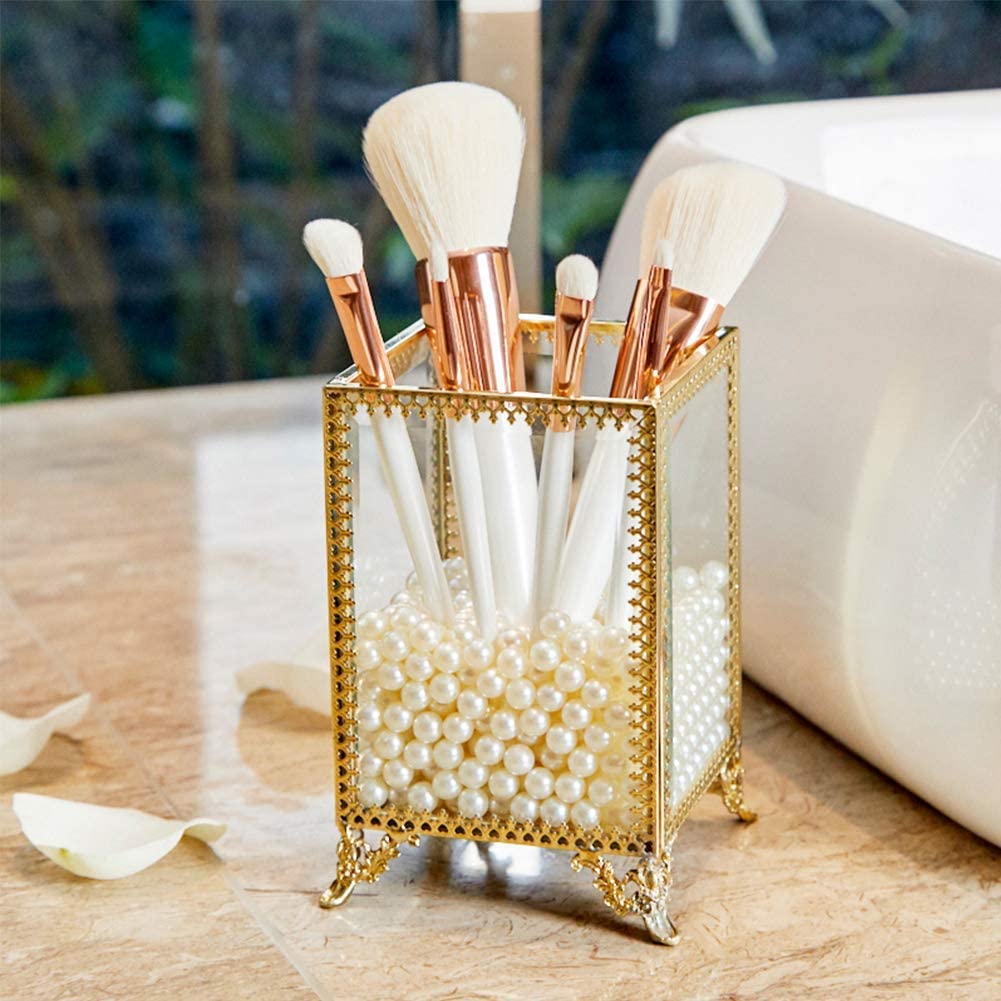 Choosing the right makeup brushes can be an overwhelming task, given the vast array of options available. But it doesn't have to be. When choosing makeup brushes, consider the following factors to ensure you select the ones that best suit your needs.
Material
There are two main types of brush bristles: natural and synthetic. Natural bristles are excellent for powder-based products, while synthetic bristles work best with liquid or cream-based products. For instance, if you are a fan of powder eyeshadows, a unicorn makeup brush with natural bristles might be a good choice.
Design
The design of a brush can make a significant difference in its functionality. The shape, size, and density of the bristles determine what kind of application you'll get. For a precise eyeshadow application, consider smaller, tightly packed brushes. For a soft, diffused blush application, opt for larger, fluffy brushes. If you're looking for a whimsical touch, consider the fun designs of mermaid, unicorn, or hello kitty makeup brushes.
Function
Every makeup brush has a specific function, be it for foundation, blush, eyeshadow, or contouring. It's crucial to choose brushes based on your makeup routine. For example, if you don't use eyeshadow often, investing in a variety of eyeshadow brushes might not be necessary.
Price and Brand
Your budget and preference for certain brands also play a role in your choice. Kylie makeup brushes might be an excellent choice if you're looking for high-end, professional brushes. On the other hand, if you're looking for more affordable yet stylish options, consider pink or purple makeup brushes.
Age Group
It's essential to keep in mind the age group of the user. If you're choosing brushes for children, it's crucial to opt for brushes that are kid-friendly, like hello kitty makeup brushes or unicorn brushes that are both fun and safe for kids.
Skin Type
Different skin types might react differently to brush materials. For those with sensitive skin, it's crucial to opt for brushes with soft bristles to avoid skin irritation. Synthetic brushes are often hypoallergenic and suitable for sensitive skin.
Maintenance
Brushes require regular cleaning to remove residual makeup, oil, and bacteria. Some brushes are easier to clean than others based on the bristle material and density. For example, synthetic brushes often dry faster than natural bristles after cleaning.
Personal Style
Your personal style can also influence your brush selection. If you're into glam, luxurious brushes like rose gold makeup brushes could be a great fit. If you appreciate a touch of whimsy, brushes like unicorn, mermaid, or hello kitty makeup brushes could resonate with your style.
Here's the updated table with the new categories:
| Factor | Considerations |
| --- | --- |
| Material | Natural for powder products, Synthetic for cream/liquid products |
| Design | Shape, size, and density based on application needs |
| Function | Choose based on your makeup routine |
| Price & Brand | Consider your budget and brand preference |
| Age Group | Kid-friendly brushes for young users |
| Skin Type | Soft, hypoallergenic brushes for sensitive skin |
| Maintenance | Easy-to-clean options for regular use |
| Personal Style | Choose brushes that resonate with your personal style |
Remember, choosing the right makeup brushes is highly personal. There's no one-size-fits-all. Choose brushes that feel right for you and make your makeup application process enjoyable.
How to Care for and Clean Your Makeup Brushes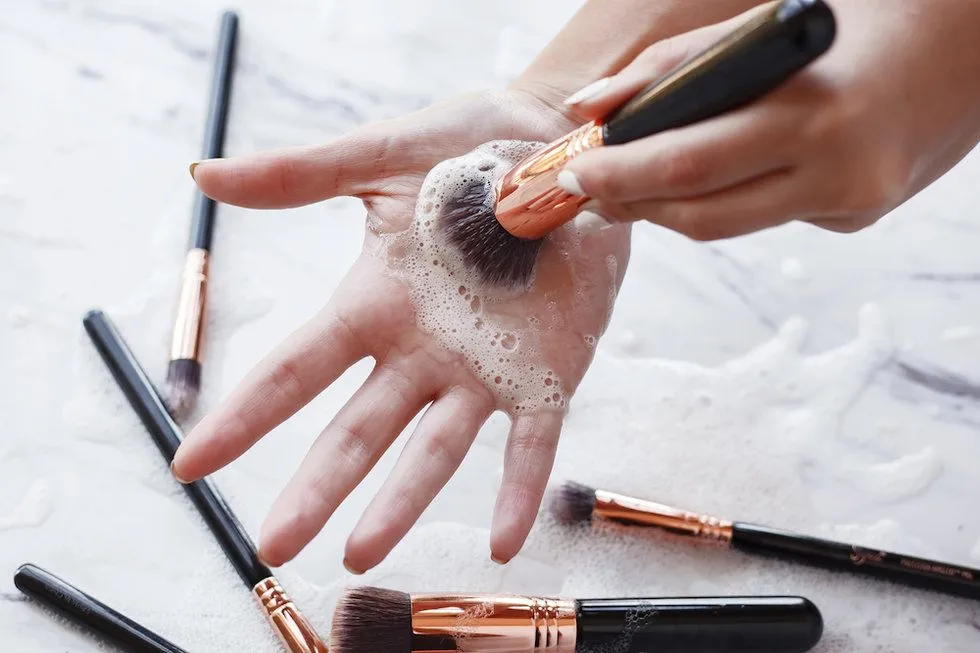 To keep your whimsical makeup brushes in their best condition, regular care and cleaning are necessary. Proper maintenance of your brushes ensures not only their longevity but also the health of your skin. Here are a few steps to guide you through the process.
Regular Cleaning
Regular cleaning is crucial to remove makeup residue, oil, and bacteria from your brushes. As a rule of thumb, brushes used for liquid or cream products should be cleaned daily, while those used for powder products can be cleaned once a week. Here's a simple method:
Wet the bristles with lukewarm water.
Apply a small amount of gentle shampoo or brush cleaner to the bristles and gently work up a lather.
Rinse the bristles thoroughly under running water. Continue rinsing until no color leaves the brush.
Gently squeeze out the excess moisture with a clean towel.
Reshape the brush head and let the brush dry with its bristles hanging off the edge of a counter, which allows them to retain their shape.
Deep Cleaning
Deep cleaning should be performed monthly to ensure a thorough cleanse. This process involves a more intensive cleaning product and a longer drying time.
Here's a simple deep-cleaning method:
Run the bristles of the makeup brush under lukewarm water. Avoid getting the handle of the brush wet, which can loosen the glue over time.
Apply a brush cleaner or a mix of gentle shampoo with lukewarm water in a bowl. Swirl the brush in the mixture to create a lather.
Use a brush cleaning mat or a textured surface to agitate the bristles, helping to release deeply embedded product and oils.
Rinse the brush under running water again, ensuring the water runs clear and all cleaning solution has been removed.
Gently squeeze out the excess water using a clean towel.
Reshape the brush bristles and lay flat on a clean towel to dry. Alternatively, use a brush drying stand if you have one, allowing the bristles to hang downwards. This will prevent water from seeping into the handle and help the brush to maintain its shape.
Allow the brushes to dry completely before using them again. This could take several hours or ideally, overnight.
Storage
Proper storage can help maintain the shape of your brushes and keep them clean. Store your brushes in a dry, clean place — a brush holder or a clean makeup bag can be good options. Ensure the bristles are not being squished or distorted during storage, which can damage their shape and effectiveness.
Replacing Brushes
Even with meticulous care, all makeup brushes will eventually need replacing. A well-cared-for brush can last for several years, but if you notice that your brush is shedding, has a foul smell, or isn't performing as well as it used to, it's time to replace it.
| Task | Frequency | Steps |
| --- | --- | --- |
| Regular Cleaning | Daily/Weekly | Wet, lather, rinse, squeeze out excess water, reshape, dry |
| Deep Cleaning | Monthly | Wet, lather in a cleaning solution, clean on a textured surface, rinse, squeeze out excess water, reshape, dry overnight |
| Storage | Always | Store in a dry, clean place, avoid squishing bristles |
| Replacing | As needed | Replace when shedding, smelly, or not performing well |
Proper and consistent cleaning of your makeup brushes is key to maintaining their performance and longevity, not to mention, it's also important for your skin's health. So, go ahead and give your favourite tools some well-deserved care.
Conclusion
Whether you're a makeup enthusiast or a casual user, the tools you use to apply your products play a vital role in achieving your desired look. But, as we've discovered, makeup brushes can be so much more than just functional tools. They can embody your personality, inject a dash of whimsy into your daily routine, and truly enhance your makeup experience.
From the mythical allure of unicorn brushes to the sleek sophistication of Kylie brushes, we've explored an enchanting world of unique makeup brushes. We've learned that each type has its charm, resonating with different age groups, skin types, and personal styles.
But possessing these magical tools is just one part of the story. Caring for them is equally important to prolong their life and maintain their performance. Regular cleaning, deep cleansing, and proper storage are crucial elements of brush care, ensuring your brushes continue to serve you well.
In conclusion, embracing the world of unique makeup brushes not only elevates your beauty routine but also adds a touch of magic and whimsy to your everyday life. As you choose your brushes, remember, they're not just tools but an extension of your personality. Pick ones that reflect your spirit, match your style, and bring joy to your makeup journey.
Now that you're armed with the knowledge, it's time to let your creativity soar and let your makeup brushes paint your story. Whichever brush you choose, remember: it's all about having fun and feeling good in your skin. After all, makeup is an art, and you are the canvas!