Join India's #1 Platform
To Learn Hairstyling
100% Practical & Interactive Wokshops
CosmUp's
highly interactive training
will give you the hands on practice to build up your confidence while you implement the techniques on your clients
Similar Better experience than Offline
Our Professional Videography team captures the most Miniscule details of the hair while doing hairstyling which aren't visible in offline classrooms.
Learn Not just Hairstlyling, but the art of selling it
We teach online marketing methods which have helped 100s of Hairstylists setup their freelance services and generate huge number of client leads.
We've helped countless Individuals become Successful MUAs & Hair Stylists
Studio Manager, Mama Earth
Freelance Makup Artist & Stylist
Owner, Damini Beauty Parlor
Total Clientage of Our students 
Senior Makup Artist, Nykaa
Average Yearly Earnings of our students
We've helped countless Individuals become Successful Hair Stylists and MUA
Freelance Makup Artist & Stylist
Studio Manager, Mama Earth
Total Clients Our students have got
Makeup Artist, Health&glow
Owner, Damini Beauty Parlor
Average Yearly Earnings of our students
Learn Step-by-Step with our Detailed Curriculum
Introduction to Hairstyling
Essential styling products and tools
Different Types of hair and how to deal with them
Understanding different styles for different occasions
Understanding Layering and Shredding
 
Science of Hair Braiding
Understanding different Braided styles
Practicing braids of every length and texture
Learning Simple updo based on braids
How to create a messy bun
Learning Updos
Wavy celebrity hairstyle
Different blow drying techniques
How to create a Fishtail braid
Practicing curls
How to create and structure a ponytail
Creating natural soft beach-style waves
Professional straightening techniques
Bridal Hairstyle
Professional use of hair extensions
Bridal style updo
French twist-based bridal hairstyle
Creating an updo for a bridal hairstyle
Bridal messy braid
Bridal messy bun
Simple and elegant bridal hairstyle with accessories
Haistyles for Film & Fashion Industry
Messy updo for shorter hair
Ponytail using hair extension
Wavy hairstyle using extension
Casual evening updo
Flower updo hairstyle
Simple technique for pinup rolls
Floral messy bun
Business & Marketing
How to stay upto date with latest trends and use them for your advantage
Managing client expectations
How and where to buy hair styling products
How to market yourself
Advertising hairstyling services through Online chanels
Pricing your services
 
Our Makeup  experts are dedicated to providing high-quality training in the field of makeup.
Get Recognized, with our Certification
Showcase your Makeup Skills to the potential clients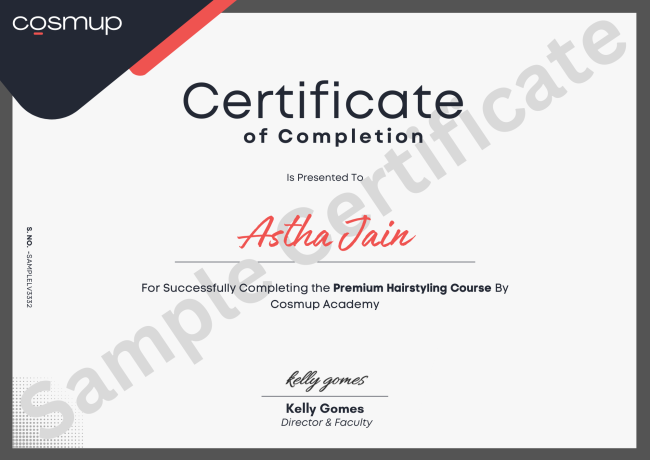 Our Student's Experiences and Why they Love Us!
What Do We offer, that others Don't?
Crucial Ckecklist which won't tick in other Makeup Courses
CosmUp's
highly interactive training
will give you the hands on practice to build up your confidence while you implement the techniques on your clients
Business & Marketing Training
In addition to makeup skills, we provide comprehensive business and online marketing training to help students establish and grow successful Hairstyling Business.
1 to 1 Mentorship Sessions
Students can receive
personalized feedback
on their makeup techniques, ask questions about the industry, and receive advice on career planning
Lifetime Access to Future Updates
With lifetime access, our students can revisit the
updated course material
to refresh their skills, and stay up-to-date with industry changes.
Unlimited Industry Workshops
We offer industry workshops by renowned experts time to time for helping our students to  stay up-to-date with the latest Hairstyling trends and techniques.
Enroll and Pay According to your Goals
Suitable For Individuals looking to Enhance their Personal Hairstyling Skills
Platinum Hairstyling Course
Suitable for Individuals looking to make a Career in the field of Hairstyling
Frequently Asked Questions
How to enroll for the Hairstyling Course at Cosmup?
You can simply call our Sales team and they will guide you through the registration process.
What is the duration of Hairstyling Course at Cosmup?
The Course is divided into 10 Sessions of 6 hours each, which will be spread over 2 Months.
Will I get a certification after completing this course?
Yes you will get an Industry Recognized Certification By Cosmup Academy after completing the course.
Is there any placement assistance after taking up this course?
No, there isn't any placement assistance. Our main goal is to impart the skills which will help the students in setting up and marketing their own business / salon.
If you can't find answers to your questions in our FAQ section, you can always contact us. We will get back to you shortly.