Rekha Verma was born and raised in a small town in India, where she spent most of her childhood. She belongs to a lower middle class family and her parents always wanted her to pursue a more traditional career path like teaching or nursing.
Despite various challenges, Rekha overcame all odds to become a successful makeup artist and she now runs a salon named "Damini Beaty Parlour' in Hari Nagar, Delhi.
Below is an excerpt of her interview with us –
How Did you Develop Interest in Makeup?
I've always been fascinated by the world of beauty and fashion, and that's how I knew that I wanted to become a makeup artist. I would often watch makeup tutorials on YouTube and try different looks on myself, and my friends and family were always impressed with my work.
I figure out that this was my passion and I was determined to make it my career.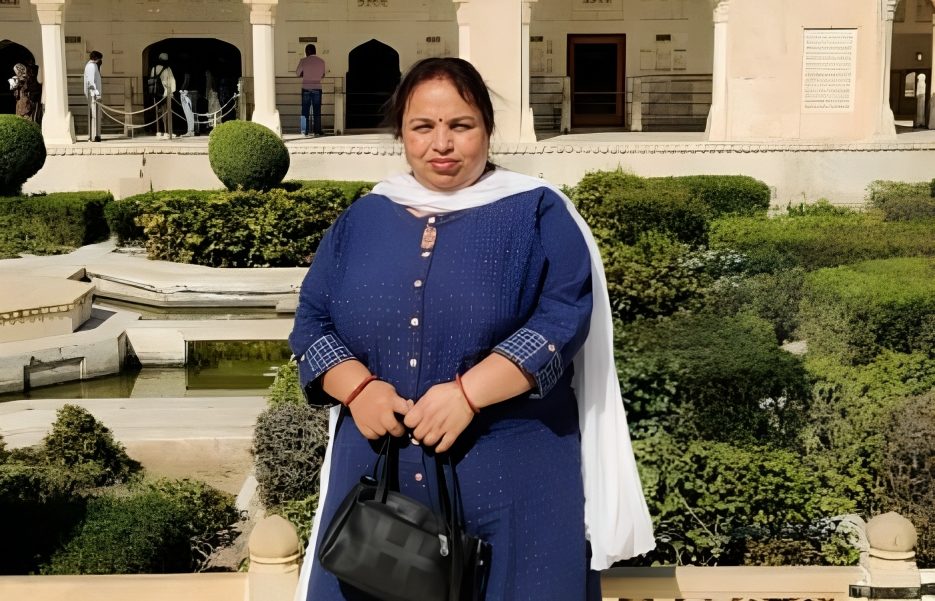 What were the challenges you faced while pursuing your dream?
One of the biggest struggles for me was the lack of support and understanding from those around me. My family believed that a career in the beauty industry was not a stable or respected profession. I had to work hard to convince them that this was my dream and that I was determined to make it happen.
After a lot of discussions and negotiations, they eventually came around and supported me in my decision.
Another challenge was the lack of resources and opportunities available to me in my small town. There were no makeup schools or professionals in the area, and I had to rely on hit and trials to learn and improve my skills.
What did you do to further your career in Makeup?
But despite these challenges, I never gave up on my dream. I knew that I had a passion for makeup and I was determined to make it my career. I moved to the city of Delhi to earn money through a part-time job and attend the makeup courses, where I'll have access to the resources and opportunities I needed to succeed.
It was during one of my job hunting that I came across an advertisement for Cosmup Academy, a makeup academy in the city. I was immediately drawn to the school's reputation for producing some of the best makeup artists in the country.
I decided to apply, despite my doubts about being accepted. I knew that this was my chance to make a name for myself in the industry, and I was determined to make the most of it.
How did Cosmup Academy help you in becoming a successful makeup artist?
Cosmup Academy was a turning point in my career. The course was intensive and challenging, but I thrived under the guidance of the experienced instructors. They taught me the latest techniques and trends in the industry, and provided me with the opportunity to work on live models and photoshoots. This gave me a hands-on experience and helped me to develop my skills and confidence.
The instructors at Cosmup Academy also helped me to build my portfolio, which was essential for me to start my own business. They provided me with the necessary resources, guidance and mentorship to develop a business plan and secure funding for my own salon, Damini Beauty Parlour. They also helped me to network with other professionals in the industry, which was crucial for me to establish my name and reputation as a makeup artist.
Can you tell us about your current business and how it is doing?
My salon, Damini Beauty Parlour, has become a huge success. I opened it a few months after I graduated from Cosmup Academy and since then it has been doing very well. I have a dedicated team of makeup artists who have been trained under me and we have been able to build a reputation for providing high-quality makeup services.
We have a loyal client base and we have been able to establish ourselves as one of the best beauty parlours in the city.
What do you think was the key to your success?
I think the key to my success was my determination and hard work. I never gave up on my dream and I was willing to face any challenges that came my way. Cosmup Academy also played a huge role in my success. The education and resources that they provided were invaluable and helped me to establish myself in the industry.
And of course, the support of my family and friends helped me to push through the difficult times!
Lastly, what advice would you give to someone who wants to pursue a career in the makeup industry?
My advice would be to never give up on your dream. Pursuing a career in the makeup industry can be challenging, but with hard work and determination, you can achieve anything you set your mind to. Make sure to do your research and find a reputable school like Cosmup Academy that can provide you with the education and resources you need to succeed. And don't let anyone discourage you or tell you that you can't do it.
Believe in yourself and your abilities, and you will be able to make your dream a reality.