Chon RC was born and raised in a small Village near Manipur, India, where she completed her schooling. She belongs to a conservative family, where traditional career options such as Engineer, Doctor, Nursing etc. were given the utmost importance.
Despite various challenges, Chon overcame all odds to become a Senior makeup artist at Nykaa, one of the biggest online E-Commerce websites in India.
Below is an excerpt of her interview with us –
How did you develop interest in Makeup?
From a very young age, I was always interested in art and creativity. I would spend hours drawing and painting, experimenting with different techniques and styles. However, I always felt that something was missing in my art and I couldn't quite put my finger on it.
It wasn't until I discovered makeup that I realized what it was. I was blown away by the way makeup could be used as a form of art, to enhance and transform a person's appearance. I was particularly drawn to the way it could be used to express emotions and tell stories. From then on, I knew that I wanted to make a career out of makeup artistry.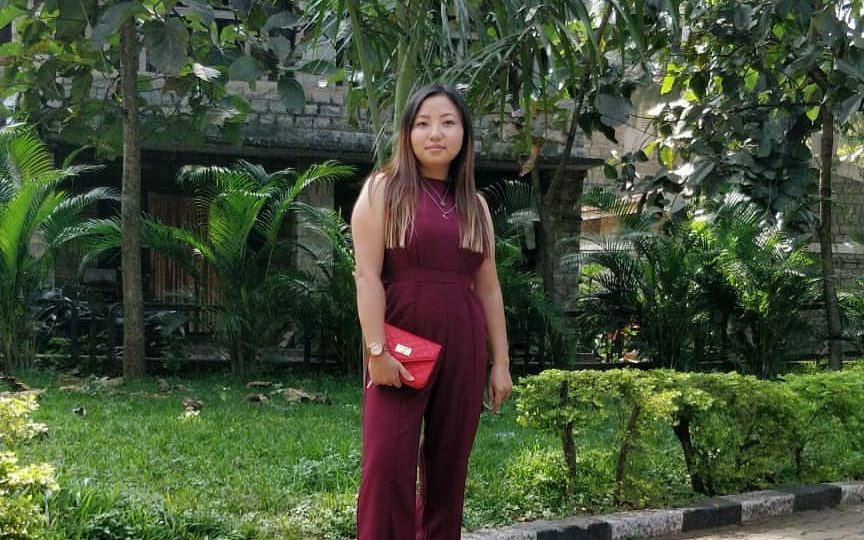 What challenges did you face in pursuing a career in makeup?
Despite my passion for makeup, I faced many challenges and struggles in my pursuit of a career in the field. My parents were not supportive of my choice and often discouraged me from pursuing it. They wanted me to focus on more my graduation (I was pursuing B.Sc in Nursing) and did not believe that a career in makeup is worth.
Additionally, I struggled to find quality education in makeup in my hometown. There were few options for makeup courses, and the ones that were available were often too expensive or not reputable.
What steps did you take to further your career in Makeup?
Despite these challenges, I refused to give up on my dream. One day, while browsing online, I came across Cosmup Academy, a renowned makeup academy. I researched the academy and was impressed with their curriculum and reputation. I knew that this was my chance to pursue my passion and gain the education and skills I needed to succeed in the industry.
I decided to enrol in Cosmup Academy, despite my parents' resistance. The course was rigorous, but I was determined to succeed. I studied hard and practiced my skills every day, determined to make the most of this opportunity.
How Cosmup Academy helped you land your current job at Nykaa?
Cosmup Academy was an amazing experience for me. The education and training I received there was top-notch and it helped me to develop my skills and knowledge in makeup. During my course, I was offered an internship at one of the leading online retailers in the Middle East. I was thrilled at the opportunity and worked hard to impress my supervisors.
After completing my course at Cosmup Academy, I developed an impressive portfolio with the help of my faculty and marketing trainers, and bagged a job as a makeup artist at 'Makeup Forever – Paris'. I was overjoyed at the opportunity to work for such a well-respected company and to pursue my passion on a full-time basis.
And now, after a few years of working with 'Makeup Forever' I took a switch, and currently I am a Senior Makeup Artist at Nykaa.
What us your current role at Nykaa?
I am currently a senior makeup artist at Nykaa, and my role includes creating makeup looks for photo shoots and videos, working with models and celebrities, and mentoring junior artists on the team.
My hard work and determination paid off, and I quickly established myself as one of the top makeup artists in my team. I am known for my creativity and attention to detail, and my work is in demand. I also gained a reputation as a dedicated and skilled mentor to the junior makeup artists on the team.
Do you have any advice for others who may be facing similar challenges in pursuing their passions?
My advice would be to never give up on your dreams, no matter how difficult it may seem. It may take time, hard work, and determination, but if you truly have a passion for something, it's worth fighting for.
Also, never stop learning and seeking out opportunities to improve your skills and knowledge. And don't be afraid to take a risk, like I did when I decided to move to Mumbai and enroll in Cosmup Academy.
Sometimes, taking that leap of faith is what it takes to achieve success!